NEW Bridgewater product launch!
The suprise of 2022 from us to all Sweet Grace fans: A laundry perfume and detergent concentrate! For fresh, clean, fragrant laundry. Bring Sweet Grace into your everyday life by washing clothes, linen, towels and more with your favorite Bridgewater fragrance! Read on and find out all about the formulation, application, sustainability and ingredients.
A great duo: perfume and detergent
The two laundry care products are a great duo! Use the detergent for your weekly wash and add some laundry perfume into your washing machine or even our dryer for that extra fragrance boost!
We care!
Both products can be used with all fabrics and work great with all washing temperatures from 30-95°C. We made sure to only choose the best ingredients that are not harmful for you, your clothes and washing machine. 100% fragrance, 0% non-sense! That means: No parabenes, silcicones, microplastic, bleach, colorants, fillers and animal products.
Sweet Grace for on the go!
Just like with our Sweet Grace Bodycare line, we want you to be able to experience Sweet Grace even on the go, not only at home. So here it is: The gentle and unique mix of Sweet Grace's passion fruit, tea and patchouli on your clothes, sport towels, your blankets, bed sheets and so much more is now possible!
The Sweet Grace fragrance is already famous among home fragrance fans for many years! Candles, sachets, diffusers, wax melts, and so much more can be found in the broad home fragrance assortment. After the great success of Sweet Grace Bodycare Line in 2021 that added 6 products (showerfoam, body cream, hand wash, hand cream and a body & bed mist), the one thing that our Sweet Grace fans were still missing now, was a fragrance boost for also their clothes and linens.
And we got you! From now on it's possible to fall into a bed of freshly washed Sweet Grace bedsheets, step out of the shower and cuddle into scented towels or jump into your favorite pair of jeans that envelop you with the gentle scent of Sweet Grace – our customer's number one favorite!
LAUNDRY PERFUME 200ml
Scent it up! A longlasting Sweet Grace fragrance boost for your clothes & linens. With just a few squeezes you add a scent explosion of passion fruit, tea and patchouli. Enjoy!
Can be combined with other detergents and even be used in the dryer. Perfect for towels and bedsheets.
Why buy the new Sweet Grace laundry perfume?
Long lasting strong fragrance
for all textiles
up to 3x more washes than competing products
Suitable for all washing temperatures from 30-95°
For washing machine & dryer: pour in softener department or add a squeeze to a drying ball or cloth and add to laundry in the dryer
How do I use the Sweet Grace laundry perfume?
You can use the laundry perfume in 2 ways: in the washing machine and in the dryer.
1.Use in washing machine (for a wash load of 4kg)
For a gentle scent: 1 squeeze
For a strong scent: 3 squeezes
Put directly into the fabric softener department.
Tipp: For the ultimate scent explosion try the Sweet Grace detergent too!
2. Use in dryer
Pour a few drops onto a dryer ball (e.g. wool dryer balls) or dryer sheets and put it in the dryer together with your laundry. Start the cycle and enjoy the Sweet Grace fragrance afterwards.
CONCENTRATED DELICATE LAUNDRY DETERGENT 1000ml
Wash, dry, smell, repeat!
For fresh fragrance in your everyday wash. Wash all fabrics in any temperature you like.
With notes of passion fruit, tea and patchouli you give your laundry the special fragrance treatment it deserves. Clean & fragrant laundry that will make your day.
Why buy the new detergent?
special refresh effect with micro capsule formulation CAPS TM
gentle to skin and fabric
derma test: excellent
limescale protection for machine and fabric
colour protection for brilliant colours
concentrate product, less waste
25% more content than usual laundry detergents
How do I use the Sweet Grace detergent?
Application and Dosage
16ml for one wash load of 4kg
25ml for one wash load of 6kg
Put liquid directly into the detergent department of your washing machine.
Washing temperature: 30-95°C
Good for every hardness of water due to special formulation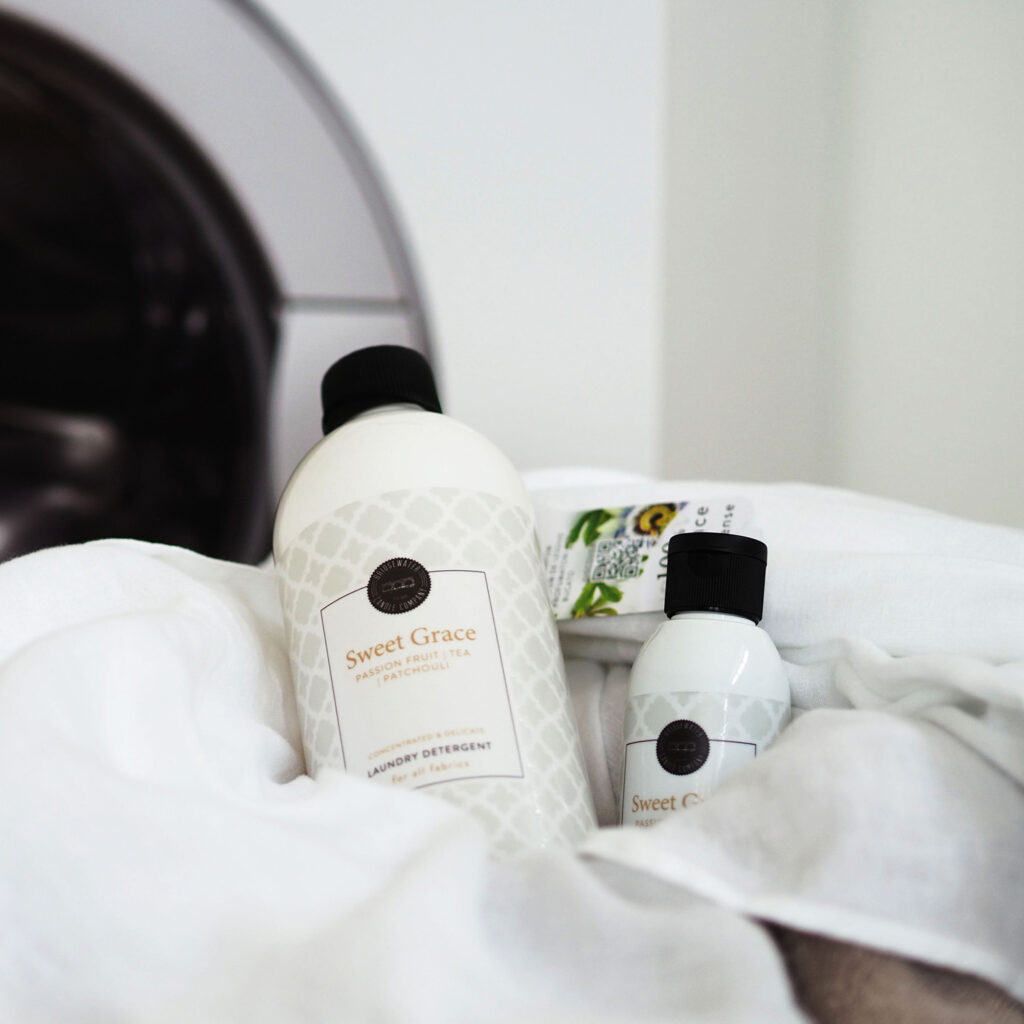 0% non-sense – because we care!
For us it's important to check all the boxes!
great smell
effectively clean
responsible choices regarding the ingredients
Many other detergents might smell nice, but once you look at the ingredient list, you will start to doubt if you really want this on your skin all day, every day. That's why we made sure our products are not only filled with love, but also with only good ingredients that do not harm you, your clothes, the environment or your machine.
The Bridgewater washing detergent concentrate works without enzymes and bleach which makes it extra gentle for skin and clothes while it still works on high washing temperatures up to 95°.
We also chose for a concentrate instead of a normal fluid detergent, because it will last you 2-3 times longer! A small amount of the fluid will already have a great impact! Plus: You don't have to buy as many detergent bottles as you used to – much better for the environment!
A special extra: woolen dryer balls
Wool balls that go perfectly with our laundry perfume. Add a squeeze, put it in your dryer with your laundry and enjoy soft, fluffy and fragrant clothes and linens afterwards. They will give it the extra fragrance boost, make it soft and fluffy (some people even use these balls instead of softener).
Extra advantage: Drying balls can save 25% of the drying time! Less electricity, less environmental impact, but a maximum of fragrance!
Fluffy, fragrant laundry & a heart for the environment.